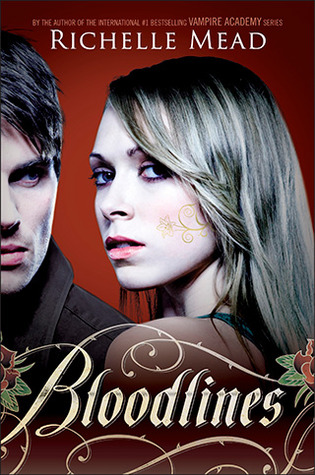 Bookish Details:
Pages:
421
Publisher:
Razorbill
Release Date:
January 1st 2011
Synopsis:



Sydney is an alchemist, one of a group of humans who dabble in magic and serve to bridge the worlds of human and vampires. They protect vampire secrets - and human lives. When Sydney is torn from her bed in the middle of the night, at first she thinks she's still being punished for her complicated alliance with dhampir Rose Hathaway. But what unfolds is far worse. Jill Dragomir - the sister of Moroi Queen Lissa Dragomir - is in mortal danger, and the Moroi must send her into hiding. To avoid a civil war, Sydney is called upon to act as Jill's guardian and protector, posing as her roommate in the last place anyone would think to look for vampire royalty - a human boarding school in Palm Springs, California. But instead of finding safety at Amberwood Prep, Sydney discovers the drama is only just beginning...
My Review:
I have no idea why it took me so long to read Bloodlines, I really don't. I adored Vampire Academy, and one of the things I loved most about the series was Adrian, so I should have jumped on this series straight away, but I didn't. It had been lying on my bookshelf, looking up at me with puppy dog eyes for so long that I finally took pity and picked it up. And God, I wish I'd done it sooner.
Even though I already loved Adrian and Sydney, I had a sinking feeling that I just wasn't going to like Bloodlines as much, and it was only going to make me want to go back and re-read Vampire Academy again. It didn't. Sydney is a much stronger character in a series of her own. I had doubts about whether she'd be interesting enough for me to continue with the series, but I was totally surprised.
What's also great is that romance isn't the main plot in this first book. It's very much about Sydney being taken out of her comfort zone and her reactions to it all. I have no doubt that a romantic plot will feature later in this series, but for the first book, I love that we're simply getting the chance to get to know the characters separately without them being thrown into relationships. I think it's pretty obvious as to whom the romance will eventually revolve around, but we're being treated to a better build up towards it. You'll find no 'love at first sight' stories here.
I liked having a new and interesting plot, but with the familiarity of the wonderful world that Mead created in Vampire Academy. I also loved Jill and Eddie being included in the story. I really liked the two of them in the original series, so I was glad to see the again. I love how the secondary characters from the VA books have been given a chance to shine on their own in this series.
The plot was really intriguing. It started out quite slowly at first, with little hints of something more sinister being at work. I liked the build up towards the bigger problems in the story. It kept me guessing. There are also plenty of questions left to be further explored in the series. And then there was the last line. That really made me excited to read the second book.
So overall, I'm excited to continue with this series, and I am definitely kicking myself for not picking it up much sooner.
Royal Rating: