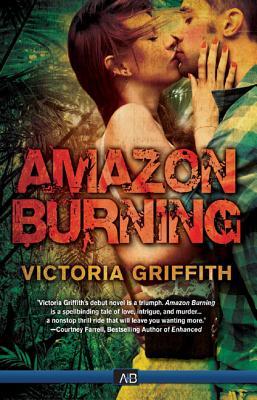 Bookish Details:
Pages:
279
Publisher:
Astor & Blue
Release Date:
November 7th 2014 (Paperback)
Buy it From:
Amazon
-
B&N
Synopsis:



When 22-year-old aspiring journalist, Emma Cohen, is forced to flee the comforts of her NYU student life, she maneuvers an internship from her father at his newspaper in Rio de Janeiro. There, Emma is immediately swept into a major news story--and a life-threatening situation--when a famous jungle environmentalist, Milton Silva, is mysteriously murdered. Emma must now enter the Amazon rainforest with her father to investigate; both awed by the enormity and beauty of the Amazon, and appalled by its reckless destruction. Not only will Emma have to brave the primal world of the Amazon, she must fight to survive the kidnappers, villains, corrupt activists, and indigenous tribes that lay in wait along the ever-twisting trail of the murder case. Stretched to the brink, it s up to Emma, her father and the dreamy news photographer, Jimmy, to unravel the mystery and live to tell the tale. Amazon Burning by Victoria Griffith is a spectacular debut Young Adult novel. Griffith's powerful rendering of the Amazon rainforest forms the perfect, wildly exotic backdrop for this extraordinary tale of a young urban woman coming of age in the midst of intense conflict.
My Review:
First things first, I love the Amazon Jungle. I've even written a few essays about Indigenous people. And of all the years I've been reviewing books, I've never once been asked to review one set in the Amazon Jungle. So needless to say, I was really happy when this arrived in my inbox.
The plot for this story is unique and intriguing. And, of course, the setting was one of the highlights for me. There's a murder mystery going on amongst a ton of action and romance, so there's plenty to keep readers entertained. There are also quite a few darker elements to this story, which I really enjoyed.
The characters were fantastic. I do wish we'd seen a little more of Emma's father though, because I found him interesting and thought he had more potential. Emma herself was a wonderfully strong character. I loved her view of the Amazon and her passion to tell the world her stories from her time there. Jimmy was equally as great. He struck me as kind-hearted and streetwise. You'd feel safer travelling with him!
My favourite parts of this book had to be the scenes set within the Amazon itself. The culture was utterly compelling. The descriptions of the tribes and their way of life were fascinating and well researched. I like a book that lets you learn something from it, and I think this story will definitely get its readers thinking.

The mystery element to the story is also super exciting! It keeps you guessing throughout each chapter, adding in plenty of twists and turns, building to a shock-worthy ending.

What didn't work for me in this book was the romance. I liked both Emma and Jimmy, but the romance, for me, just didn't have that spark that I felt it would. I wasn't drawn in by it, and I wasn't rooting for them to finally be together. I don't know why, but it wasn't as exciting for me as I'd hoped. But as I said, I liked both of the characters.
I must admit, Jimmy's story felt a little unresolved at the end of the book. Since his past as a doctor was brought up quite a few times, I expected some sort of conclusion from it. I know he explained why he gave up working as a doctor, but I still felt like it was all building up to something else, like maybe he'd put it behind him and try and get back into it?
As I see this blog as a place purely for YA reviews, I do feel the need to point out that this book feels more like a New Adult novel to me, rather than YA. The themes are more mature and the romance scenes are quite full-on. Just a heads up to any younger readers!
Overall, I'm happy I had the chance to read a story set outside of the usual locations. The way of life in a different part of the world definitely added the intriguing spark within this book. If you want to try something a little different, this story might just be one for you.
Royal Rating: