Not in the festive spirit yet? Well, there's nothing like a cute Christmas story to stop that pesky bah, humbug feeling. Here's a few of the stories I like to cosy up with before the big day.
Sparkling white snowdrifts, beautiful presents wrapped in ribbons, and multicolored lights glittering in the night through the falling snow. A Christmas Eve snowstorm transforms one small town into a romantic haven, the kind you see only in movies. Well, kinda. After all, a cold and wet hike from a stranded train through the middle of nowhere would not normally end with a delicious kiss from a charming stranger. And no one would think that a trip to the Waffle House through four feet of snow would lead to love with an old friend. Or that the way back to true love begins with a painfully early morning shift at Starbucks. Thanks to three of today's bestselling teen authors—John Green, Maureen Johnson, and Lauren Myracle—the magic of the holidays shines on these hilarious and charming interconnected tales of love, romance, and breathtaking kisses.
Two Exes. One holiday adventure. Merry Ex-Mas?

Seventeen-year-old Lila Beckwith's parents just left for vacation, and Lila's all set to throw the holiday party of the season. But when her Christmas-obsessed little brother, Cooper, discovers that global warming is melting the North Pole, he and his best friend, Tyler, take off on a runaway mission to save Santa.

Lila has to get Cooper safely home before her parents get back on Christmas Eve. But the only person who can help her is Tyler's older brother, Beau — a.k.a. Lila's musician, anti-everything ex-boyfriend.
It'll take more than a Christmas miracle for Lila and Beau to overcome their differences and find their fugitive brothers. But could a journey destined for disaster help these polar opposites fall in love...all over again?
When Peter, Susan, Edmund and Lucy took their first steps into the world behind the magic wardrobe, little do they realise what adventures are about to unfold. And as the story of Narnia begins to unfold, so to does a classic tale that has enchanted readers of all ages for over half a century.



This stunning version of the classic The Lion, The Witch and the Wardrobe, illustrated by Christian Burningham, comes with a special recording of the story which features a full production and specially composed music which transports the listener straight to the heart of Narnia. An absolute must for Narnia fans, and an excellent way of introducing the magical story to a new generation of readers.
Jack Frost is about to lose everything. After attempting to again destroy Christmas, the Holiday that he hates more than anything, he is threatened with losing his job, and his Immortality. But, he is given one last chance at redemption.



That last chance lands Jack in the North Pole the week before Christmas, in order to help Santa Claus prepare for his busiest night of the year. There, Jack is tasked with the job of "Tour Guide", in order to show Santa's granddaughter, Clara, the sights of the Pole.

As Christmas draws nearer, and Jack's time begins to run out, he finds himself becoming fond of Clara, who attempts to show him the real meaning of Christmas, all while shocking him with her unique view of the world.

But, the past proves hard to reconcile, and soon, Jack hatches one last plan to destroy Christmas, a plan involving Clara, which may prove fatal not only for the Pole, but for her, as well -- unless Clara can melt his icy heart in time.

The first book in the fan-favorite series, the Snowflake Triplet, Clara Claus is a fantastical adventure that reminds us of the importance of hope, and the real meaning of Christmas.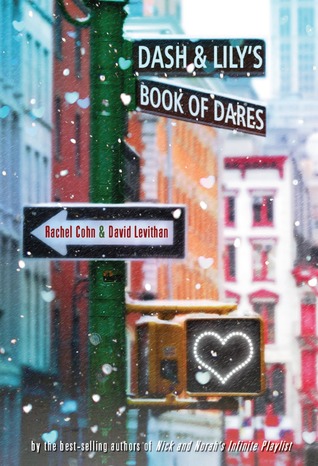 Dash and Lily's Book of Dares by Rachel Cohn and David Levithan
"I've left some clues for you.

If you want them, turn the page.

If you don't, put the book back on the shelf, please."



So begins the latest whirlwind romance from the bestselling authors of Nick & Norah's Infinite Playlist. Lily has left a red notebook full of challenges on a favorite bookstore shelf, waiting for just the right guy to come along and accept its dares. But is Dash that right guy? Or are Dash and Lily only destined to trade dares, dreams, and desires in the notebook they pass back and forth at locations across New York? Could their in-person selves possibly connect as well as their notebook versions? Or will they be a comic mismatch of disastrous proportions?

Rachel Cohn and David Levithan have written a love story that will have readers perusing bookstore shelves, looking and longing for a love (and a red notebook) of their own.
This one is probably one of my favourite books to read at Christmas time. There was even talk of a movie adaptation possibly being made, which I hope works out because I think it would make a wonderful film!
So, I hope you've now found a new book to read this December. If you don't have time for a full-length novel this holiday season, last year I wrote my very own short Christmas story, and I've just uploaded it to Wattpad! You can check it out
here
.
Have a fantastic Christmas, everyone!