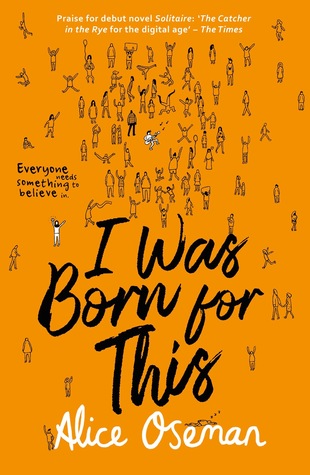 Pages:
395
Format:
Paperback
Publisher:
HarperCollins
Genre:
Contemporary
Release Date:
May 3rd 2018
TW:
Anxiety, Panic Attacks
Buy The Book:
Book Depository
-
A Great Read
'I'm gonna die. I'm literally gonna die.'
'Wouldn't recommend that,' says Juliet, as if she's been on a two week holiday to Death and gave it a two out of five on TripAdvisor.

For Angel, life is only about one thing: The Ark – a pop-rock trio of teenage boys who are currently taking the world by storm. Being part of The Ark's fandom has given her everything – her friend Juliet, her dreams, her place in the world.

Jimmy owes everything to The Ark. He's their frontman – and playing in a band with his mates is all he ever dreamed of doing.

But dreams don't always turn out the way you think, and when Jimmy and Angel are unexpectedly thrust together they find out just how strange and surprising facing up to reality can be.

Funny and wise, I Was Born for This is a stunning reflection on the power of believing in something - especially yourself.
Let me start by saying
HELLO I AM IN LOVE WITH THIS BOOK
.
I Was Born for This
switches between Angel, a passionate fan of The Ark, the band that has kept her going for the past five years of her life, and Jimmy, the lead singer of that very band. The story joins Angel as she makes a trip to London to meet her best friend for the first time after speaking to her online for years, so that they can finally meet The Ark and see them in concert. On Jimmy's side of the story, we get to see what life is like for him as a band's frontman who is about to sign a new and more gruelling contract.
Where do I even start?
I love Angel so, so much
. She has her flaws and lessons to learn throughout the story, but that's what makes her such an honest character. Not to mention
she is so damn RELATABLE
. As someone who has met up with a close internet friend in the past, I enjoyed getting to read her thought process upon meeting Juliet for the first time. They face challenges as online friends meeting in person, but they manage to work through those problems.
When it comes to The Ark,
I think I love Jimmy Kaga-Ricci as much as Angel does
. Getting to see the band's side of things is the fascinating thing about this story. I love the contrast between a fan and her idol. Every band member is written so well but Jimmy really is wonderful. His struggles with anxiety and his doubts about the future broke my heart. It's something that makes you think beyond the pretty faces you see in music videos because there are probably many people in the public eye who share at least some of Jimmy's thoughts.
POSITIVE FAN CULTURE CONTENT. This story manages to discuss the darker sides of fandom without demonising it. Having Angel as one of those teenage girls who people look down on for liking things and reading her explain in her own words why fan culture is important, shows both the positives and negatives to the world of fandoms.
INTERNET FRIENDSHIPS. We live in a world where we can make meaningful friendships with people we've never seen in person before. This story shows that it might not work out the way we pictured it, but the connections we make online can be just as important as any friendship.
BAND LIFE. If The Ark was a real group, I'd be in a queue for their concert. This story does a fantastic job of highlighting all aspects of a famous band's life and it's so interesting to read.
IMPORTANT MESSAGES. Yes, Angel is a huge fan of this band and they mean everything to her, but throughout the story she realises that there are more things she needs to focus on in life than The Ark. Revolving your life around a band is never going to end well because more likely than not, it will hurt you eventually. You can love and support your favourite bands as part of your life, not all of it.
HILARIOUS. God, there were so many parts in this book that had me close to tears laughing. I can't even tell you how much I love some of lines.
Being an avid fan of groups myself, there were so many aspects of this story that I could literally
feel
. Considering just a few months ago I went to see my own favourite group in concert, travelling down to London and meeting fellow fans who were simply internet names before that day, there were plenty of scenes that I connected with. There's a whole page in this book where Angel talks about fandom and honestly, I'd frame it if I could.
I have to thank my own internet-turned-real-life friend,
Jasmine
, for giving me a copy of this book because she knew I'd love it. As always, she was completely right and it ended up being on of my favourite books of 2018.